Donor-funded arts program aids in recovery for thousands annually

When Ernie Jones takes something on, he gives it his all. Now retired, he taught at a local elementary school for 32 years. He has bowled in the same league for the past 62 years (and with the same team for the past
46!). Jones took up crocheting as a hobby and has since made 450 afghan blankets, all of which have been gifted to friends, family, local charities, or anyone who crossed Jones's path who could use a warm blanket.
So, when Jones heard the news that his leg needed to be amputated, he faced it the same way he has with everything else—with determination.
In July 2020, Jones's big toe developed an infection and started to swell; to play it safe, he went to an urgent care facility. His toe needed to be amputated, but the bad news didn't end there—Jones discovered he had kidney failure. After taking steroids to help his kidneys, he started experiencing elevated blood sugar levels. At this point his vascular surgeon at HSC told him that his foot would never heal and that the blood flow wasn't strong below the knee. They would have to amputate his leg.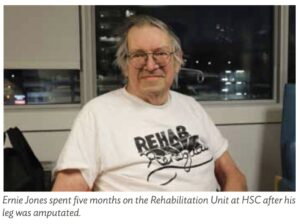 It was suggested that Ernie sell his house and move to an apartment before the surgery. After careful consideration, Jones's strong will prevailed. "I'm not going to sell my house; I've lived here for 75 years! I'll learn to live with the amputated leg," he recalls. This same determination led to Jones asking a nurse for a walker shortly after his surgery so that he could go to the bathroom. After a visit from a physiotherapist, Jones was given permission to try and, just hours after surgery, he hopped to the bathroom with the walker. This show of strength led to daily walks with HSC staff, and, eventually, a prosthetic leg for Jones.
The road to recovery can be long, and in Jones's case, he stayed in the Rehabilitation Unit at HSC for five months. During this time, he discovered the Artists in Healthcare program.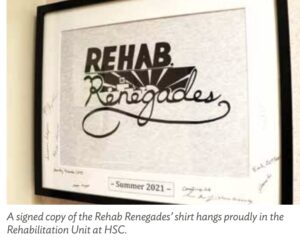 Artists in Healthcare brings live arts to patients receiving treatment in oncology, palliative care, rehabilitation, and dialysis. The programs provide important benefits for patients, families, and staff as an oasis from stress and anxiety. Artists in Healthcare provides the healing .power of music to over 120,000 patients, more than 8,000 staff, and over 100,000 visitors to HSC annually."
One day, Jones was in his bedroom when he heard a guitar playing down the hallway. Upon investigating, Jones found Sam Singer, one of the Artists in Healthcare musicians, playing guitar in the lounge. Singer invited him to sing along, asking which songs Jones would like him to learn. Singer had heard from several staff that Jones sang in his church choir and was the former president of an opera association. Immediately, a bond formed between them, and Singer agreed to learn to play Jones's requests if Jones sang with him.
Their musical group—aptly named the Rehab Renegades—grew to include two other patients,
Earl and James. The group decided to write their own song and record it before Jones was discharged. The band grew such a following at HSC that they created band t-shirts to sell, with proceeds supporting the HSC Foundation.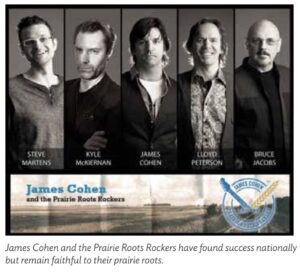 Artists in Healthcare is proudly supported by Gendis Inc., a locally owned and operated commercial property management company, which is currently celebrating its 90th anniversary.
Gendis Inc. President and CEO James Cohen is no stranger to the power of music. From learning guitar as a child, to performing in garage bands in high school, to graduating from university and attending the prestigious Guitar Institute of Technology in Hollywood, California, Cohen has always known the value of music. Ten years ago, his band, James Cohen and the Prairie Roots Rockers, signed with a Warner Music Canada affiliate label, and charted nationally with two of their songs, So Long Sweet Deception and These Long Nights. Recently, the band joined the Winnipeg Symphony Orchestra on stage at the Centennial Concert Hall.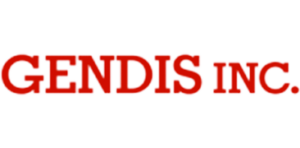 "I know the incredible healing power of music and how it can unite us," says Cohen. "This program touched me. It is tough being in the hospital, and I hope Artists in Healthcare brings healing and happiness to those
who need it."
Jones is grateful for the Artists in Healthcare program, and the memories and friendships that were created as a result. "If it hadn't been for Sam coming along when he did, it would have been a very difficult and challenging time recovering," says Jones. "Music is food for the soul."
To donate to The Gendis Inc. Artists in Healthcare Endowment Fund supported by James Cohen and the Prairie Roots Rockers, please call 204-515-5612 or 1-800-679-8493 (toll-free).