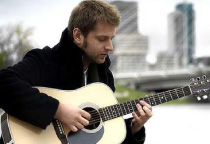 Keith Price
Keith Price joined the Music to My Ears Program with Artists in Healthcare in 2005, after studying with Larry Roy and Steve Kirby at the University of Manitoba.
Having strummed since the sixth grade on his grandfather's old guitar, Keith Price landed his first gigs at age fifteen. First influenced by pop, punk and heavy metal, Price discovered jazz through the intensity and spirituality of John Coltrane. At age 19, he began his formal studies at the Conservatory of Amsterdam. Upon his return to Winnipeg, Price turned down a scholarship at The New School University in New York City and opted instead to stay in Steve Kirby's newly established jazz program at the University of Manitoba and study with Larry Roy. He has also studied in Boston with renowned guitar guru Mick Goodrick.
'Breakfast Of Champions', Price's debut album was released in the fall of '09. The album was nominated for the TD Grand Prix Du Jazz and The Galaxie Rising Star awards at the 2010 Montreal International Jazz Festival. 'Gaia/Goya', his sophomore recoding, written while traveling Canada, The U.S, and Europe, peaked for two weeks at #2 on the Canadian jazz radio charts (!earshot) and was runner-up for the 2013 Julian Award for Excellence for Emerging Canadian Artists. The 30 year-old guitarist released his third album in May of 2013; a mellow and introspective solo guitar recording of original compositions, tunes by Neil Young, The Weakerthans, Radiohead, and Bob Dylan.
Keith has enjoyed playing with Artists In Healthcare Manitoba since 2007.