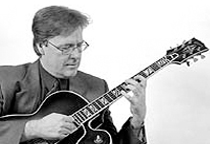 Tim Cummings
Tim studied guitar with Ken Davidson and Bob Sabourin in Ottawa (1968 to 1973) and Theory and Harmony with Julia Van Octon ( Toronto Conservatory). He continued studies with guitarist Hank Monis and pianist (jazz theory)Ted Moses in Toronto during the late 1970's.
His first professional work was playing guitar with Ottawa Band Leader Champ Champayne in 1972. At this time he also worked with Blues singer Gerry Griffin.
In 1975 Tim moved to Toronto to absorb the Jazz scene. During this time he worked with Vibrophonist Tim Tickner and R&B vocalist Jay Douglas.He also worked with many other band leaders and an emerging group of young Jazz musicians such as Lorne Lofsky,Shelly Burger and Del Dako.
After relocating to Winnipeg in 1979 ,Tim quickly established steady work teaching guitar and freelancing. In the 80's he worked with Walle Larrson, Owen Clark, Pat Carey, Jimmy King, Dave Jandrish, Greg Lowe and many other local performers. In the 90's he was a member of Kerry Klunners Big Band and the Manitoba Composers association. Tim co-led the Klowak/Cummings Jazz Quartet and played several seasons with the W.J.O. He has also performed with the W.S.O.(New Music Festivals and Pops). Tim has been featured on C.B.C.'s Jazz Beat and Arts Encounters, at the Winnipeg Jazz Festival and many other local events.
Tim started teaching guitar in 1972 for Yamaha Canada and opened Tim Cummings Guitar Studio in 1992. He has also taught for the Manitoba Conservatory of Music and Arts and has given many Guitar Clinics for the public school system. He continues to teach and can often be heard playing duets with fellow guitarist Ron Halldorson , Starlight Jazz or Janice Finlays Group.
Tim's main influences are Wes Montgomery, Larry Coryell, Pat Martino and Johnny Smith. He has had the opportunity to devote himself to decades of personal practice and study and is at liberty for gigs and accepts private students of all ages and interests.
In 2005 (to present) Tim started playing solo guitar for Artists in Healthcare Manitoba. He has found playing for Cancercare to be a very meaningful experience.